We're Getting Mutants in the MCU - The Loop
Play Sound
Warabi Seinan High School is located in the Saitama prefecture. It is the home to the Warabi Girls Soccer Team and the Warabi Boys Soccer Team.
Uniform
[
]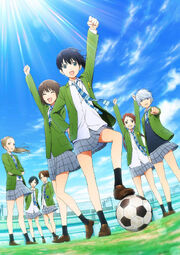 Warabi has different varieties of the school uniform. Most of the students wear the green blazer, blue tie, a white shirt inside, and a light blue skirt.
Students like Ayumu, Noriko, and Rui wear it differently as they don't wear the green blazer. Ayumu wears a cream-colored vest while Noriko, Rui, and Suo wears a navy blue vest.
Warabi's kit consists of a white shirt with the player's number on it and the school emblem, green shorts, and blue socks.
Plot
[
]
Naoko Nomi went to Warabi Seinan High School when she was 17 years old. She became a legendary soccer player.
After seeing Warabi lose to Urawa Hosei in a practice match one year ago, Sumire Suou is convinced to attend the school because she sympathized with Eriko Tase. Midori Soshizaki comes along. The two girls meet Nozomi Onda in the newly formed Warabi Girls' Soccer team.
Naoko Nomi arranged a practice match with Kunogi Academy so the team can compare their abilities to Kunogi.
Determined to replace Naoko's custom uniforms, Onda, Suo, Soshizaki, and Echizen represented the school in a futsal tournament to win money for new uniforms. They encounter Rei Kutani and her team Hairis.
The Warabis entered the Saitama Prefectural Preliminaries. They advanced to the knockout stages where they will face off against Urawa Hosei in the first round.
After losing to Urawa, the Warabis began training for the next tournament which is named the JKFB Interleague.
Relationships
[
]
The Warabis had a one-sided rivalry with Kunogi after losing to them in a practice match. Later on, some members of the Warabis (Onda, Soshizaki, Suou, and Echizen) encountered Kunogi (Tsukuda and Ito) at a futsal tournament and teamed up temporarily. After the tournament, they promised Kunogi that they will meet in the nationals, establishing a friendly rivalry.
After losing to Urawa in the past, the third-years left the team. One year later, new members joined. In the knockout stage of the Saitama Preliminaries, the Warabis are surprised to see that they will be facing Urawa. They see Urawa as a rival and are determined to win against them someday.
Naoko was impressed with Eisen because of how they became the best team in the Chiba prefecture without having a coach.
Though some members (Onda and Kutani) insult each other, Korenkan and Warabi have a friendly rivalry.
Practice Matches
[
]
Warabi Seinan vs. Urawa Hosei (past) [Score: 0-7]
Warabi Seinan vs. Kunogi Academy [Score: 0-21 ]
Futsal Tournament
[
]
Warabi Seinan vs. Hairis [Score: 2-3]
Saitama Prefectural Preliminaries
[
]
The preliminaries are for the Summer National High School Sports Tournament.
Warabi Seinan vs. Asaka Trade [Score: 3-4]
Warabi Seinan vs. Misato Girls' [Score: 3-1]
Warabi Seinan vs. Kotesashi Seirin [Score: 5-4]
Warabi Seinan vs. Urawa Hosei [Score: 0-2]
JKFB Interleague
[
]