Jurassic World: Dominion Dominates Fandom Wikis - The Loop
Play Sound
Nozomi Onda (Japanese: 恩田 希, Onda Nozomi) is one of the main characters in Sayonara Cramer and the main character in Sayonara, Football.
Appearance
[
]
Nozomi is a young soccer player with short bluish hair and pale blue eyes.
She wore different outfits:
In middle school, she wore a blue sailor uniform.
In high school, she wears a school uniform that consists of green blazer outside, white shirt inside, a blue and teal striped tie, and a skirt.
Personality
[
]
Nozomi is described as "overconfident" in her abilities. She can be rude in her previously poorly-performing team's ability to succeed. Her experience in Sayonara, Football led her to believe that joining a girls' soccer team in high school would hinder her abilities. She changes her mind when she plays against Kunogi in a practice match. When she is not motivated to play a game, she stands there looking bored.
Nozomi becomes irritated whenever someone believes that they are better than her, as shown when she picked a fight with Kutani during futsal after Kutani told her that soccer needs physical players instead of talented players.
Background
[
]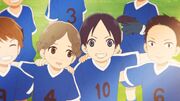 When Nozomi was a child, she got into football after a group of boys challenged her to a game in order to take a park back. She watched football videos with her friend Sawa Echizen. Later on, she met Tetsuji Yamada and Kaoru Takei in fourth grade and played football with them. Then she met Yasuaki Tani who was being bullied by a group of boys in a temple. She decided to train him to be a strong football player since he is a transfer student to the same school.
Eventually, Yasuaki moved away and Nozomi didn't see him for five years. She meets him again in the streets. After graduating from Fuji Daiichi Middle School, she decides to attend Warabi Seinan High School.
Plot
[
]
Sayonara Football
[
]
Nozomi had to join the boys' team because Fuji Daiichi Middle School had no girls' team. She participated in practice matches but was benched during official matches. She tried bribing the coach into letting her play in the newcomers' tourney but it failed. One day, Nozomi has an encounter with Yasuaki Tani, a childhood friend who she hasn't seen in five years. They got into a heated argument about physical ability. Yasuaki claims that football is about physical ability and that being a boy puts himself a level above her. This made Nozomi furious and determined to play against him. The reason why she wants to play in the newcomers' tourney is because Yasuaki's school Egami West is playing in the first match.
On the day of the newcomers' tourney, Nozomi watches the first round from a bench. After the break, she follows her brother Junpei into the bathroom and knocks him out. She takes his clothes to disguise as him in the second-half of the match. In the end, she acknowledges Yasuaki's improvement and re-establishes her friendship with him.
Sayonara Cramer
[
]
Nozomi's former coach Kouzou Samejima convinced her to join a girls' football team so she can play in official matches. She attends Warabi Seinan High School with Echizen. Nozomi meets Midori Soshizaki and Sumire Suou for the first time when they join the team. She participates in the practice match against the Kunogi Girls Soccer Team. Soshizaki and Suou agree to work with her to improve the team's performance.
She decides to enter the futsal tournament with Soshizaki, Echizen, Suou, and two members of Kunogi Academy to earn money to buy new kits for the team. With their kits acquired, Nozomi gets too excited during the days leading up to the first match of the Saitama preliminaries, and became sleep-deprived. This led her to accidentally scoring a goal for Asaka Trade. Nozomi is benched in the next game.
During PE, Nozomi ends up injuring her foot during softball. The next day, the Warabis face off against Kotesashi Seirin. Nozomi's injured foot gave her trouble but she managed to get the ball to Shiratori. She meets Kazuo Takahagi on the way to the soccer field. She follows his lead during practice.
On the way home, she learns about Goro's past. When Kazuo suggests the idea that Goro lost passion for soccer, she disagrees and says that he likes it.
When the Warabis face Urawa in the Saitama preliminaries, Onda becomes motivated to beat Urawa so she can face Kunogi in the future. After losing to Urawa, she becomes determined to improve herself and the team.
Relationships
[
]
Sawa Echizen: Nozomi and Sawa are childhood friends. They went to Fuji Daiichi Middle school and now Warabi Seinan together. Sawa was always by her side even when she was in the boys' team. Sawa always rooted for her best friend and helped her train up so she could earn a spot in the newbie game in Farewell My Dear Cramer: First Touch.
Sumire Suou: Sumire was impressed with Nozomi during a practice match. Her impression of Nozomi soured when she saw her doing nothing during soccer practice which led to Naoko Nomi assigning the team push-ups for punishment. During the practice match against Kunogi, Nozomi didn't like that Sumire was letting Mao Tsukuda beat her everytime she tried to kick the ball.
Midori Soshizaki: Midori was impressed when Nozomi ran after the ball during a practice match. Her impression of Nozomi soured when she saw her doing nothing during soccer practice which led to Naoko Nomi assigning the team push-ups for punishment. During the practice match against Kunogi, Nozomi and Midori reached an agreement that they must not give up and score at least one goal.
Aya Shiratori: Nozomi doesn't like Aya because she keeps making mistakes when trying to kick the ball. When Aya messes up a kick, Nozomi lectures her.
Other
[
]
Junpei Onda: Junpei is Nozomi's younger brother. She trained him ever since he was little. By middle school, he is already taller than his older sister.
Kouzou Samejima: Kouzou was her coach in the Fuji Boys Soccer team. She begged him to let her play in the newcomers' tourney but he refused because she is a girl and he worried that she would get critically injured during a boys' competitive game. He acknowledges Onda's skill and is often mesmerised by her amazing moves; commenting that she could very well be the one to turn the tables for women's soccer.
Etymology
[
]
The name Nozomi means "hope" (希).
Nozomi's surname Onda means "grace, favor, obligation" (恩) (on) and "field, rice paddy" (田) (ta/da).
Quotes
[
]
"Soccer's more fun when everyone's playing." (To Sumire Suou, Episode 1)
"I had no idea girls' soccer had such amazing players. I had no idea soccer could be so vast and high-reaching." (Internal dialogue to herself, Episode 2)
"It's not my style to go down without a fight." (To Midori Soshizaki, Episode 3)
Gallery
[
]
Appearance in Covers
[
]
Anime
[
]