Kunogi Academy High School is home to the Kunogi Girls Soccer Team which is considered to be the best high school team in Japan.
Uniform
[
]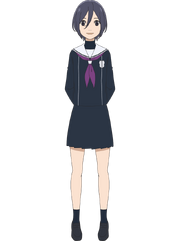 Students of Kunogi Academy wear the black, purple, and white sailor uniform.
Kunogi's kit is orange, red, and white.
Plot
[
]
Naoko Nomi arranged a practice match with Kunogi so that the Warabis can compare their abilities. Kunogi emerges as the winner of the match. Kunogi participated in the Kanto Qualifiers.
Relationships
[
]
As the stronger team, Kunogi won the practice match. Some members and Coach Washizu noted that Onda was impressive with her Marseille turn. Later on, some members of the Warabis (Onda, Soshizaki, Suo, and Echizen) encountered Kunogi (Tsukuda and Ito) at a futsal tournament and teamed up temporarily. After the tournament they promised each other that they will meet in the nationals, establishing a friendly rivalry.
Kunogi doesn't see Urawa as a threat.
Kunogi has a one-sided rivalry with Eisen. Kaji from Kunogi declared that they will come after Eisen for revenge next time.
Practice Matches
[
]
Kunogi Academy High School vs. Warabi Seinan High School [Score: 21-0]
Kanto Preliminaries
[
]
Kunogi Academy vs. Urawa Hosei (past) [Score: 3-1]
Kanto Qualifiers
[
]
Kunogi Academy vs. Eisen Funabashi [Score: 2-3]
Gallery
[
]