Jurassic World: Dominion Dominates Fandom Wikis - The Loop
Play Sound
First Touch is an anime film adaptation of Sayonara, Football which is written and illustrated by the mangaka Naoshi Arakawa about girls' soccer.
Overview
[
]
14-year-old Nozomi Onda has only one thing on her mind: playing beautiful soccer. There's just one problem: no matter how much she longs to participate in official matches, she'd have physically superior boys as opponents. But when a boy from her past confronts her on the street, she decides she can't wait any longer.
Plot
[
]

The film begins with Nozomi cutting her hair and putting on a kit to join a match. Then the scene changes to a time when Nozomi were teammates with Junpei, Yasuaki, Kaoru, and Tetsuji while Echizen watches in the audience. They played a match at the youth football tournament and won. The next day, Nozomi hears the news that Yasuaki is moving away. After Nozomi gives him a little charm, they make a promise play football together someday.
Three years later, Nozomi is attending Fuji Daiichi Middle School with her friends and joined the football team there. In the first year of middle school, Nozomi played in an official match. When she was going to score a goal, an opponent crashed into her and knocked her out. She wakes up with a bruise on her right arm. Echizen went to check on her.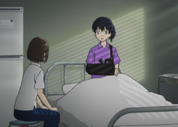 Coach Samejima walks in the room and tells Nozomi that from this day on, she will not play in official matches. This announcement left Nozomi shocked and frustrated. One year later, Nozomi is practicing with the boys. The newcomers' tourney is coming up and she wants to be one of the players on the roster. Coach Samejima refuses to put her on it because she will get injured again.
In the boys locker room, Nozomi suggests that Tetsuji should ask the coach let her play in the tourney. Tetsuji refuses because he doesn't want to go against the coach's words. Kaoru says that she should just show up without telling him. Tetsuji suggests that Nozomi should play futsal. Echizen, who was covering her eyes the whole time, tells him that Nozomi is banned from futsal games because she kicked a heckler in the audience. Nozomi wants to play in the newcomers' tourney because she wants revenge. Regardless, Tetsuji says that the physical difference between men and women are huge and ends the conversation at that.
At a temple, Nozomi compares herself to Tetsuji and Kaoru. She feels that she is being left behind. Echizen argues that Nozomi is doing great and that she doesn't need physicality to play football. On the way home, the girls run into Yasuaki. While Echizen greets him, Nozomi realizes that even Yasuaki changed and looks at him in disbelief. She becomes irritated at the thought of Yasuaki surpassing her. Nozomi and Yasuaki gets into a heated argument about football skills and it ends with Yasuaki asking her what could she do with her body because by being a boy, he has surpassed her. Nozomi realizes that Yasuaki is the captain of Egami West, the team that Fuji Daiichi will face next and decides that she will play no matter what.
Nozomi decides to bribe Coach Samejima by giving him snacks, a signed shoe by Mbappe, and Whitepink merchandise. All attempts failed and she runs away whenever Samejima realizes that she was the culprit.

The scene pans over to Yasuaki in his room. He takes out the charm that Nozomi gave him five years ago and remembers the time when she saved him from a group of bullies and the time when he practiced football with her and Junpei. He regrets his words in his argument with Nozomi and calls himself an idiot.
Nozomi and Echizen goes to Egami West to see how Yasuaki is doing in football practice. After seeing him play, Nozomi becomes excited to play against him and tells Echizen that she needs to train immediately. At night, she encounters Yasuaki at a pedestrian light. He apologizes for what he said the other day. Nozomi brushes him off and declares that he won't beat her.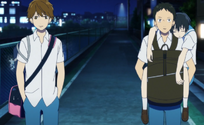 After practice at night, Kaoru and Tetsuji take Nozomi home. The two boys realize that they don't like that Nozomi is obsessed with Yasuaki and it is why they don't like the idea of her playing in the tourney.
On the day of the newcomers' tourney, Nozomi did not get selected to play in the game. She sits on the bench to watch the game. As she watches Yasuaki play, she compares Yasuaki's young self to his current self. She becomes determined to play against him. The first half of the match ends with score of 0-0. In the break room, Junpei noticed that Yasuaki is stronger than before. He announces that he's going to the bathroom. The second half of the match starts. Yasuaki is surprised to see Nozomi on the field. It's revealed that she snuck into the boys restroom, taped Junpei up, and took his clothes.
During the match, Yasuaki intercepts Nozomi, knocking her out and scoring for Egami West. While she lays on the grass, Nozomi has a memory of when she first played football. A group of boys challenged Nozomi to play a game if she wanted the park back. When she lost, she shouts that rough football isn't fun. After waking up from the memory, Nozomi remembers that this is just not her match, it's Fuji Daiichi's match too. And she should have fun playing football. When she was going to score, Yasuaki crashed into her, injuring her right foot.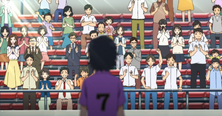 She insists on playing and the team lets her. The match continues and the ball gets passed around. Before Yasuaki could get the ball, Nozomi does a roulette and kicks the ball to Kaoru who headbutts the ball into the goal, scoring one for Fuji Daiichi. Unfortunately, there was a foul, which means that the score didn't count. Nozomi finally decides to substitute out for another player. On the way to the bench, she is praised by the audience who was captivated by her play which made her happy.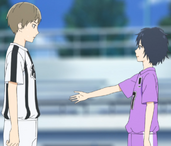 The match ends with Egami West's victory. Nozomi congratulates Yasuaki and offers him a handshake. She was surprised about how good he has become and says that they should play football again sometime. Overwhelmed with emotions, Yasuaki begins crying and hugs her. The film ends with Yasuaki's foot accidentally touching Nozomi's injured foot, making her yell in pain.
In a post-credits scene, Midori Soshizaki and Sumire Suou find Junpei crawling out of the boys' restroom. The girls call him a pervert. Coach Samejima walks over to him and tells the girls that he's here now. Knowing that he'll take care of it, the girls walk away. Coach Samejima takes the tape off Junpei's mouth. Junpei asks how's the game going and Samejima replies that it's over.
Production
[
]
The anime film is animated by Liden Films and directed by Seiki Takuno, with Natsuko Takahashi in composition.
Trivia
[
]
The girlgroup Whitepink is a reference to the Korean girlgroup Blackpink.